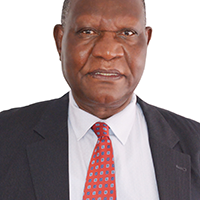 Prof. Johnstone Mutisya Kiamba – Chairman
Prof. Kiamba has over 30 years career experience having held
management and teaching positions in various organizations. He has
held various public service positions in Kenya, Botswana and South Africa.
He is currently a consultant on regional development and environmental
planning .Prof.Kiamba holds a Doctor of Philosophy in Urban & Regional Planning, Nottingham University, UK. He is a member of the Botswana Institute of Town & Regional Planners, South African Council for Town & Regional Planners, Kenya Institute of Planners and is an Advocate of the High Court of Kenya.