MR AND MISS MMU 2020 CROWNED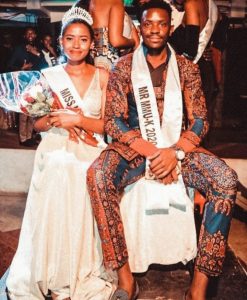 It was a night of pomp and color as Multimedia University of Kenya holds its 2020 beauty pageant in an event that saw 21-year old Ishmael Khamisi and 21-year old Naomi Wanja crowned Mr. and Miss MMU respectively.
Khamisi, a 2nd year Bachelor of Commerce student emerged the best after beating a total of 8 other male contestants while Wanja, a 3rd year BBIT student was crowned queen of the night beating 13 other female contestants.
The two impressed the judges with their glamorous outfits and impressive grasp of communication skills during a Question and Answer session which was the ultimate tie breaker.  The night also saw Gathoni Gitau and Brenda Kananu crowned the first and second runners up respectively on the ladies' side.
The exercise was a culmination of a series of events that included a week-long cultural festival that recognizes and celebrates the diversity among students, with the models showcasing a variety of outfits including Official Wear, African Wear, Casual Wear and Crazy wear within the university.
Models were judged by a panel of 3 judges that included former Miss Environment Kericho County, Yvonne Sigei, catwalk choreographer and stylist Alexander Aldama and Best African Model of the Year 2018 Askah Ochieng.
The newly crowned queen Wanja says that she will engage in various environmental activities within and outside of the University and also seek new ways to curb climate change for a better tomorrow. On the other hand, Ishmael says he plans to launch social welfare programmes like street kid feeding projects and public education programmes about fitness and living a healthy lifestyle.
The event was spiced up by entertainment from Sailors Gang, Gwaash and also other upcoming artists from the institution. Some of the fashion icons in attendance were Miss Zero, Mr. TUK 2020, Miss BAIP Turkana county and Miss Untamed Kilifi County.