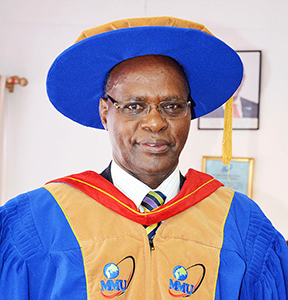 I am humbled as I take over as the new and first appointed Vice-Chancellor of Multimedia University of Kenya after its inauguration as a fully fledged university in March 2013.
I appreciate the role my predecessor and outgoing Ag. Vice-Chancellor played in establishing this young institution. As the new team joins the management of the University, we acknowledge that we are not inheriting a vacuum but a vibrant institution at takeoff stage.
At the same time, I thank the Cabinet Secretary for Education, Science and Technology Prof. Jacob Kaimenyi and Multimedia University of Kenya Council for the trust bestowed upon me.
Career
I bring with me a distinguished academic and public service career.
As a scholar, I am a professor of Organic Chemistry, Jomo Kenyatta University of Agriculture and Technology where I taught at undergraduate and postgraduate levels. I rose through the ranks of the university administrative structure as a Chairman of department, Director, Dean and Deputy Vice Chancellor. I had a stint at the then Commission for Higher Education currently Commission for University Education where I was in-charge of quality assurance for five years. The retired President, H. E. Hon Mwai Kibaki appointed me Kenya's High Commissioner to India for a period of five years from 2007 to 2012. There, I diligently served as the ambassador.
Way forward
I am aware of the heavy task ahead of all of us as members of the MMU community. As an institution, we face challenges but how we view them shall define us. We either choose to view challenges as stepping stones or as obstacles. If we see them as obstacles, then these challenges will be problems – problems that will need to be overcome with all negative connotations associated with problems. And remember a great deal of wasted energy can be spent focusing on negative mindset.
At Multimedia, I propose to see challenges as stepping stones, opportunities that we have encountered along the way for us to use to "step up" so as to achieve more, develop further and ultimately actualize more of our goals.
Multimedia University's vision is to be A world class centre of excellence in training, research and innovation in cutting edge technologies. However, we need to create a vision whereby our name becomes synonymous with excellence, innovation, honor, integrity and outstanding quality and service. We need to promise less and deliver more each time. If we keep our vision simple yet goal focused then we will have turned defining our vision into a stepping-stone, one which we will use to reach even greater heights.
As we embark on developing the University, all the dedicated personnel at Multimedia University need to be committed to defending our vision. We need to draw on tried-and-tested experience and hold onto what works. We need to introduce new thinking and approaches where feasible and we need to stop what is not working. I am certain that the staff is fantastic and diverse. We have a kaleidoscope of professionals different in so many ways. Some may choose to see diversity as an obstacle, dividing rather than unifying. Let us see diversity as a springboard. We shall focus on the individuals' strengths and use their strengths in a very goal-directed niche within our organization.
To the students who are our main stakeholders, we look forward to a healthy working relationship where dialogue becomes the pillar of our understanding. We remain open to your deserved needs and not demands and our focus will be to make you all-round graduates ready for the market. Let us remain focused as we endeavor to promote our academic excellence and performance locally and globally.
As we move forward, my focus is on the following:
Training programmes: The University will unveil more training programmes by the faculties and schools both at undergraduate and postgraduate levels to address market needs of the country. The establishment of the Directorate of Postgraduate studies is a priority.
Training opportunities for staff: Currently there is an elaborate training policy for the academic as well as administrative staff at all levels. The University endeavors to increase the number of academic staff trained at PhD level as per the requirements of quality teaching and research.
Expansion of student numbers: At the moment we have the Main Campus at Mbagathi and the Central Business District Campus in Nairobi town. The main campus has a population of about 3610 students while the CBD campus has about 100 students undertaking certificates, diplomas and degree programmes. We intend to increase these numbers by marketing programmes and setting schools, directorates, and other satellite campuses across the country.
Partnership with other universities and organizations: The University has signed a number of partnerships with other organizations and universities. The terms and conditions of the said memorandum of understanding shall be implemented to realize the benefits of each. The University has been nominated as the seat of the Open University of Kenya and has already allocated space for the same. Also to note with appreciation is the anticipated establishment of the Kenya Advanced Institute of Science and Technology by the Korean Government. We look forward to enhancing these opportunities and signing more partnerships of benefit to the University.
Development of infrastructure: As the student's population is projected to go up, there is already demand for the expansion of the existing facilities namely: lecture theatres; recreational facilities and accommodation facilities for our students. Besides the normal government capitation, we intend to raise funds through income generating units, self-sponsored programmes and seek donor funding to realize this objective.
I look forward to our working together.
Thank you!
AMB. PROF. FESTUS KABERIA