Innovator's Sensitization Workshop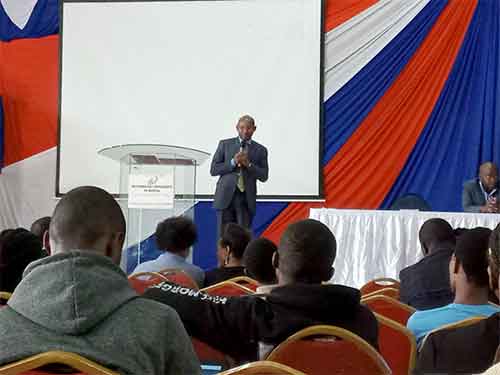 MMU Deputy Vice Chancellor Academic Affairs, Research and Innovation Prof. Paul Mbatia during the official opening of the Innovator's Sensitization Workshop at the Main Conference Hall on 28TH November 2019.
Budding innovators at Multimedia University of Kenya (MMU) have been urged to keep their innovations simple and scalable as they court success in Kenya's inventive landscape.
"Keep your idea simple and showcase its scalability because investors need to understand it and see the potential for growth," advised Enactus Kenya's Paige Maina during the Innovators Sensitization Workshop held at the University's Main Conference Hall on 28th November 2019.
Her advice echoed that of MMU's Deputy Vice Chancellor Academic Affairs, Research and Innovation, Prof. Paul Mbatia who asked the students to find simple solutions to the challenges we face in life.
"Consider the challenges we face today and develop innovations that will make life easier," said the Don during the official opening of the Workshop.
In his presentation titled Sources of Innovation Funding, University of Nairobi C4D Lab's Peter Oketch noted that most providers of funding will require something in return hence the need to showcase projections of the company's growth when pitching. He however underscored the need for bootstapping and "bleeding" by innovators as a showcase dedication and confidence in their work.
Organized by the Research and Innovation Department, the event was themed Linking Academia and Industry towards the Realization of the 4th Industrial Revolution for the Big Four Agenda and was a curtain raiser for the 2020 MMU Innovation Week. It was geared to sensitize budding innovators for success in our unique environment.
"The university is keen to invest in innovation and this event is intended to support and promote a culture of innovation at MMU while preparing students for the upcoming Innovation Week which will take place in February 2020," said MMU Ag. Registrar, Research and Innovation, Mr. Anderson Maina.
The MMU Innovation Week is an annual exhibition of innovative and enterprising ideas by MMU students and staff for a chance to secure funding, recognition, mentorship, incubation and networking opportunities.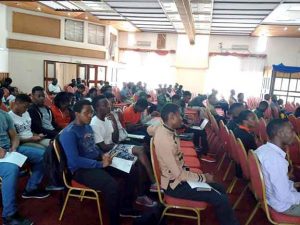 Participants of the Innovators Sensitization Workshop follow the proceedings during the event.
Participants for the Sensitization Workshop were also treated to presentations ranging from the stages of innovation to packaging and protection of ideas by a team of highly qualified and capable industry practitioners. The workshop culminated with a brief interview of EABL Logo Design Competition Winner Elvis Otieno and SmartBin innovator and entrepreneur Eric Munene, brilliant MMU students who have excelled in innovation.
The event was also graced by Nation Media Group's Florence Mwaita, University of Nairobi C4D Lab's Peter Oketch, National Commission for Science, Technology and Innovation's Jane Omari and various MMU Dean, Directors and Staff.