Dean's Message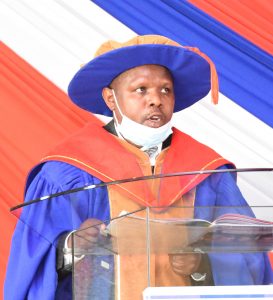 The Faculty of Media and Communication is arguably one of the largest providers of practice-based media education and related subjects in Kenya. We pride ourselves as offering the first and only degree programme in Film Production and Animation. We have some of the best-equipped media and communication labs, including more than 22 high-end I-Mac computers, Multimedia PCs, professional TV cameras and state-of-the-art audio and visual recording, editing and post-production equipment. We
have a Radio Station that broadcasts 24 hours and an excellent TV Studio. Our TV station will go on air in the near future.
The faculty has two departments: Journalism and Communication and Film and Broadcast Production.
Our staff is highly experienced and dedicated. The faculty offers certificate, diploma, degree and masters programmes in Mass Communication, Journalism, Strategic Public Relations, and Applied Communication and in Film Production and Animation.
The faculty also offers short courses in animation and motion graphics, video production, graphics
design, photography and photojournalism.
We therefore provide students with the best possible resources for training in Journalism (Print and
Broadcast), Multimedia and Animation and TV and Radio Production.
Our Bachelor of Applied Communication (B.A.C) has two unique specializations, namely Corporate
Communication and Health and Development Communication.
The faculty is one of the largest providers of practice-based media education and related subjects in
Kenya. Whether you aspire to be a newspaper reporter, magazine columnist, a TV/radio announcer, or
reporter, or graphic designer, a Certificate, a Diploma or Degree in Mass Communication will equip you
with the necessary skills and knowledge. Students produce their own magazine, short films, TV and
Radio programmes from the MMU 99.9 FM Radio station.
Training is conducted in state-of-the art media studios equipped with the latest video and audio editing
suites, providing students with a stimulating and exciting context in which to undertake their studies.
Dr. Isaac Mutwiri, PhD