Dean's Message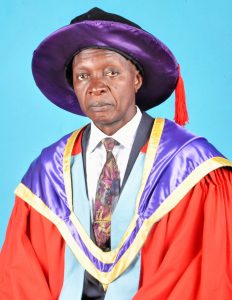 The faculty offers two (2) postgraduate programmes, namely ; MSc in Information Technology and MSc in Computer Science, each with optional specializations and four (4) undergraduate programmes – Bachelor of Science in Information Technology, Bachelor of Science in Computer Technology, Bachelor of Science in Software Engineering and Bachelor of Science in Computer Science
In response to our customer demand we offer a diploma programme in Information and Communication Technology (ICT), as well as professional courses including  Cisco Academy programme (Level 1-4), the International Certificate of Digital Literacy (ICDL) courses , Huawei 's HCIA (Datacom, Security and AI). All our programmes are constantly reviewed to reflect the rapidly changing demands in the ICT industry, and are taught by highly qualified and experienced academic staff that are very committed to academic excellence.
Through the team spirit demonstrated by the faculty and students, we have continued to produce highly competitive graduates who continue to significantly impact the ICT industry by their exceptional innovative skills.  In addition, the faculty has partnered with leading industry players such Huawei, Google, Microsoft, IBM and Cisco just to name but a few, with the aim of creating a learning environment  than blends theory and practice using the state of art technologies. As a result our students have been able to participate in national and international ICT competitions with great success.
Our alumni are key players in the ICT sector as they offer dependable, sought after solutions in technology integration, enterprise connectivity, software development, research and innovation.
The faculty is progressing towards becoming an international leader in ICT training, research and innovation.  The current areas of active research include; Machine Learning & Deep Learning, Simulation & Modeling – Urban Transport, Data Security and Privacy, and Telcos price modeling. In order to facilitate learning, innovation and research, the faculty has established modern state of the art training laboratories and the Kenya-Korea Information Access Centre.
This publication has been prepared to provide our clients and stakeholders, a comprehensive idea of the programmes on offer at postgraduate, undergraduate and professional development levels. Finally, It's my hope that the learning experience that our esteemed students obtain from the faculty and the university will be invaluable.
Dr. Moses O. Odeo, PhD
Dean, Faculty of CIT,
Multimedia University of Kenya,
P.O. Box 15653-00503, Nairobi, Kenya.
Email: modeo@mmu.ac.ke