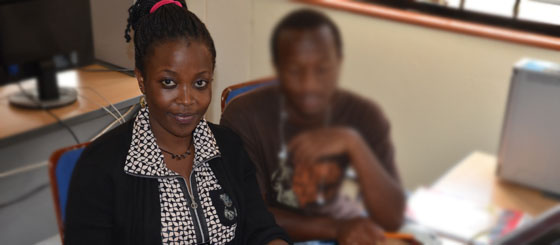 Degree that is designed to provide students with analytical, communication and problem solving skills while at the same time building competency in a particular area. The course is offered with options in Finance, Accounting, Marketing and Human Resource Management. This provides the student with the scope to enter a wide range of business fields as reflected in the various majors offered within this degree.
Entry Requirements
KCSE mean grade of C+ and a minimum of C in both English and Mathematics or A-Level two principal passes and one subsidiary pass in the relevant subjects or relevant professional qualifications approved by the University Senate. Successful Diploma graduates with at least a CREDIT Pass will join in 2nd Year
As graduates of commerce, one will have excellent career prospects and the range of employers will be vast across the private, public and not-for-profit organizations. There is a high potential to be self employed and own businesses. The course prepares graduates to be Accountants, Finance Officers, Bankers, Sales and Marketing Executives, Human Resource Managers, Stockbrokers, Procurement Managers/ Officers, Project Managers, Insurance Specialists, Customer Relationship Managers/Officers, Human Resource Managers and Officers and Administrators.
– The program takes 4 years
FACULTY OF BUSINESS AND LAW
BACHELOR OF COMMERCE
UNDERGRADUATE FEE STRUCTURE FOR SELF SPONSORED STUDENTS
ACADEMIC YEAR – 1ST YEAR STUDENTS
ITEM

FIRST

SECOND

TOTAL PER

SEMESTER

SEMESTER

YEAR

(KES)

(KES)

(KES)

A. TUITION : to be paid to the University
52,500.00
52,500.00
105,000.00
on the registration day
B. OTHER CHARGES :To be paid to the
University on the registration day
1. Examination
4,000.00
4,000.00
8,000.00
2. Medical
2,500.00
2,500.00
5,000.00
3. Activity fee
600.00
600.00
1,200.00
4. Registration fee
1,200.00
1,200.00
5. University ID
500.00
500.00
6. Computer fee
1,600.00
1,600.00
3,200.00
7. Internet fee
1,600.00
1,600.00
3,200.00
8. Field / Academic trips
1,500.00
1,500.00
3,000.00
9. Library fee
1,500.00
1,500.00
3,000.00
10. Student union
300.00
300.00
600.00
11. Accident Insurance Cover
1,000.00
1,000.00
12. Caution money
1,500.00
1,500.00
13. Student union registration
500.00
500.00
TOTAL FEE PAYABLE TO MMU
70,800.00
66,100.00
136,900.00